Creative Team
Jeffrey Artzi (Music, Lyrics, and Book)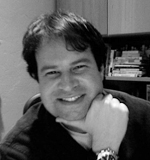 Jeff Artzi was born in Brooklyn, New York and grew up in Southern New Jersey. He began writing songs as a teenager. During his senior year at Brandeis University, he collaborated with his classmate, Daniel Tenenbaum, on an original musical about college life, "Dare to Be Different." The musical was chosen to be performed for parents, students and faculty as part of the annual Parents Weekend celebration. He earned his M.B.A. from New York University in 1990. He then founded and built several successful businesses.
He is currently the CEO of a chain of complete auto care facilities in the southwestern United States. In early 2007, Daniel approached Jeff about collaborating on the musical adaptation of "Pickle-Chiffon Pie," written by Jolly Roger Bradfield in 1967. Jeff lives in Tucson, Arizona, with his wife and three children.
Daniel Tenenbaum (Music, Lyrics, and Book)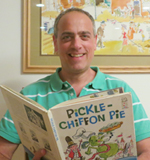 Daniel Tenenbaum was born and raised in suburban Minneapolis. He fell in love with musical theatre as a pre-teen and has seen over 650 different musicals since that time. During his senior year at Brandeis University, he collaborated with Jeff Artzi on an original musical about college life, "Dare to Be Different." The musical was chosen to be performed for parents, students and faculty as part of the annual Parents' Weekend celebration. Daniel earned his J.D. from the University of Pennsylvania Law School in 1990. Since that time, he has built a successful legal career working with entrepreneurs and venture capitalists. For over two decades, he has been the Chair of the Entrepreneurial Services Group at the law firm now known as Lathrop GPM. Daniel is active in the Minneapolis theater community. He is on the Board of the Hennepin Theatre Trust and is currently Board Chair of the Minneapolis Musical Theatre, where he's been involved for over 20 years. Daniel currently lives in suburban Minneapolis and has a wife and two children.
Jennifer Adams-Carrasquillo (Book)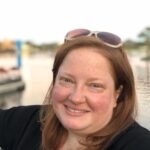 Jennifer is the Senior Director of Education at Orlando Repertory Theatre and a theatre artist committed to empowering young artists and audiences. A graduate of the University of Central Florida's MFA program in Theatre for Young Audiences, Jennifer currently leads the Orlando REP Education team in programs that support Early Childhood Literacy, Dual Language Learning, Arts Integration, Theatre for Social Change, and quality arts experiences for students 0-18. She has served as a director, choreographer, teaching artist, writer, and program manager in a variety of theatres, high schools, and community service organizations including the Springer Opera House, Rose of Athens Theatre, Dramatic English: Hong Kong, Arts Works, ArtsBridge America, Lexington Children's Theatre, Kluge Community Learning Center, and First Stage Milwaukee.
Michael J. Bobbitt (Co-Playwright)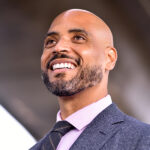 Michael is the former Artistic Director of Adventure Theatre (2007 – 2019) Currently, he is the Executive Director of Mass Cultural Council, the most senior official in arts and culture for the state of Massachusetts.  A published playwright, his plays include Bob Marley's Three Little Birds (nominated for The Charles MacArthur Award for Outstanding New Play or Musical by the Helen Hayes Awards), Garfield, the Musical with Cattitude, Jumanji (Nominated for Outstanding Play or Musical Adaptation by the Helen Hayes Awards), Caps for Sale, Make Way for Ducklings, Monster Mash: The Musical, Blueberries for Sal, Bingo Long and the Traveling All-Stars and Motor Kings, The Yellow Rose of Texas, Mirandy and Brother Wind, Say It Ain't So, The Stephen Schwartz Project, Tam's Two Dads.  For the Smithsonian's Discovery Theatre, he has revised How Old Is a Hero?, Black Diamond and Going the Distance.  Additionally, he co-adapted Big, the musical into a Theatre for Young Audience version and the redux of Broadway's After Midnight.  Currently, he's working on a Radio play commission from Hartford Stage and an adaptation of Monster Mash: A New Musical.
He studied creative writing and music at Susquehanna University and theater and dance at The Washington Ballet, The Dance Theatre of Harlem, The American Musical and Dramatic Academy and NY University's Tisch School of the Arts (Cap 21).   As a writer, his work has been accepted in the 2006 NYC International Fringe Festival, The New York Musical Theatre Festival. His new musicals, Bob Marley's Three Little Birds and Caps for Sale appeared at the New Victory Theatre in NYC. He is a member of the Dramatist Guild of America and the Stage Directors and Choreographers Society.
Jolly Roger Bradfield (Original Book)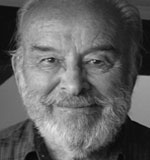 Roger Bradfield studied at the Minneapolis School of Art, the Academie Julian in Paris, and the Heatherly School of Art in London. He has headed his own commercial art studio, written and illustrated award-winning children's books and created art for both movies and television.
Bradfield was born in White Bear, Minnesota, in 1924. He launched his career with the advertising agency Batten, Barton, Durstine and Osborn in Minneapolis, Minnesota. He then spent several years working in England and France, where he did humorous illustrations for Punch and Good Housekeeping magazines. He returned to the U.S. and opened his own commercial art studio in 1953. Among the many awards garnered at this stage of his career was the prestigious National Fashion Academy Gold Medal for his work in package design.
A successful creator of children's books, he has won awards for his writing and illustration in this field and has had his books chosen as Junior Literary Guild selections. Bradfield is perhaps best-known for writing and illustrating the comic strip Dooley's World, which was syndicated world-wide by King Features.
Rob Resetar (Arrangements and Orchestrations)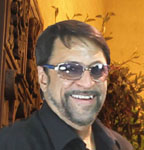 Robert graduated from Berklee College of Music where he was awarded the prestigious RICHARD LEVY COMPOSITION AWARD.
He went on to score documentaries and do orchestrations for the Boston Pops, Minnesota Orchestra & many others. He has scored independent feature films, NOVA, PBS documentaries, and Planetarium shows.
Robert orchestrated a series of television theme songs for a recording by the Houston Symphony as well as a number of his own children's works for narrator & orchestra which were performed by the Minnesota Orchestra, Detroit Symphony and others.
He currently lives in Tucson, Arizona.